Staff
The moving forces behind Operation Healing Forces.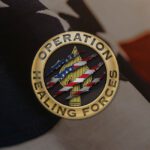 The staff members of OHF are honored to serve our country's Special Operations Forces in our own, meaningful way.
These hard workers know that neither they nor the Nation can ever repay the debt of gratitude owed to these extraordinary military personnel and their families.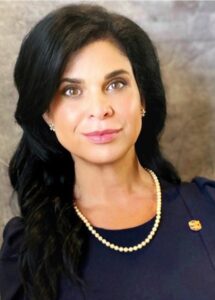 Kerry Irvin
Executive Director
Kerry is a nonprofit management professional with extensive experience strategically developing growth for a sustainable and impactful future.
Read more
She is an active duty military spouse with extensive time spent in the SOF community. As the daughter, wife, and mother of U.S. Service Members, Kerry has a unique understanding of the challenges faced by those we serve through our OHF mission.
Kerry is poised to lead the continued developmental growth of OHF to build powerful partnerships across the nation in order to increase our programming and capacity, helping us to enhance our abilities to aid special operations service members and their families.
She is a Master Resilience Trainer as well as an Applied Suicide Intervention Skills Training (ASIST) facilitator, and Transition Assistance Program (TAP) employment facilitator. Kerry is a member of the board of directors for the Military Special Operations Family Collaborative and the TEACH Family Advisory Panel of the Transforming Health and Resilience in Veterans (THRIVE) program at UNC-Chapel Hill.
Kerry's advocacy efforts and ability to bring together diverse resources to forge impactful collaborations and partnerships in support of military and veteran communities have been recognized at the highest level. She is the recipient of the President's Lifetime Achievement Award, the Secretary of the Army's Superior Public Service Medal, and has thrice been named as Military Spouse of the Year. Kerry is also a columnist, authoring The Home Front bi-weekly column for the Military Times which shines a spotlight on military family life.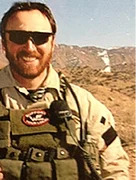 Billy DeLong
First Sergeant(R),
US Army, Retreat Program Director
Given our success and desire to aid additional SOF wounded couples, Operation Healing Forces needed a Program Manager whose leadership and combat experience would resonate with our couples and whose work ethic would be compatible with the rest of the team.
Read more
Joining the OHF team in 2016, Billy's 20-year SOF career included 16 years in the 75th Ranger Regiment and four at USSOCOM Headquarters. Billy had 13 deployments to Iraq and Afghanistan earning the Legion of Merit Award, two Bronze Star Medals, two Meritorious Service Medals, and the Combat Infantryman's Badge.

Desiree Holley
Director of Operations
Desiree Holley joined the team in November 2016 to assist Operation Healing Forces with administrative processes and procedures, development goals, and assist with the continued growth of our programs and services for Special Operation's families.
Read more
Desiree has over 18 years' experience working within the nonprofit community, 14 of those years serving families in the Special Operations Community. Desiree was a member of the Community Outreach team at United States Special Operations Command Warrior Care Program that resourced $4.5 million in benevolent support to wounded, ill, and injured warriors annually. Her in-depth knowledge of the resources and benefits available to SOF families has allowed OHF to provide increased guidance and assistance to wounded SOF families.
Desiree earned her Master of Science from the University of Florida in Health Education and Behavior and remains a key player as we move forward in tracking the long-term success of Operation Healing Forces through measurable outcomes and making program improvements through continuous program evaluation and best practice guidance. Most recently she completed a program at University of Tampa in Nonprofit Management to better serve Operation Healing Forces as their Resource Director overseeing the SOAR Program, finance, human resources, and other operation functions.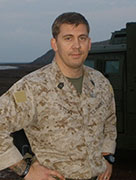 Chris Stowe
Master Gunnery Sergeant(R),
US Marine Corps, Project Manager
With the continued growth of Operation Healing Forces, there was a need to add an additional project manager that was keenly aware of the needs our SOF wounded couples face.
Read more
Chris's leadership, combat experience, and direct involvement with USSOCOM's Care Coalition as a Senior Enlisted Advisor at Walter Reed Medical Center in Bethesda was a perfect match. As Explosive Ordinance Disposal (EOD) technician, Chris spent his twenty-four-year career either supporting, training, or being attached to SOF units during his seven deployments to Iraq, Afghanistan, Africa, and other points in the Middle East and Europe. Chris also spent a year on Capitol Hill as a wounded warrior fellow on the House Veterans Affairs' committee, advocating for Integrated Disability Evaluation System (IDES) reform. Chris spent his last two years on active duty directly serving SOF Wounded, ill, and injured SOF members at Walter Reed as the Care Coalition SEA.
Retiring in 2016, Chris has become a vocal advocate for Creative Art Therapies and runs a military and veteran glassblowing course in St. Petersburg, FL in his spare time, a result of his personal successes with the therapy modality in his own healing journey.
Chris's personal awards include two Meritorious Service Medals, Joint Service Commendation Medal, Navy Commendation Medal with combat "V", Army and Navy Achievement medals, two Combat Action Ribbons and the Purple Heart.
Chris has a BS in Environmental Science from American Military University, and an MFA in Writing from National University. Chris currently lives in Tampa, FL with his wife Brandy and their two children, Zac and Miranda.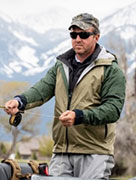 Glen Mason
Chief Warrant Officer(R),
US Army, East Region Liaison Officer
Operation Healing Forces' recent expansions are partly due to its unrelenting and enduring support for SOF couples. That message of support continues to resonate within the SOF community.
Read more
Due to Mr. Mason's combat experience, leadership, and extensive networks within Special Operations, he will be able to further that support and message to the 32,000 plus SOF service members located on Ft. Bragg and the surrounding area as the East Region Liaison Officer.
During Mr. Mason's 23 years of service, 18 of those years in Special Forces, Mr. Mason has either supported, trained, or sometimes led Special Forces Operational Detachments deployed to Iraq, Afghanistan, or numerous Joint Combined Exercise Training (JCET) within the United States Pacific Command. (USPACOM)
CW3 Mason recently retired in 2020 and is now one of the newest members of the Operation Healing Forces Team (OHF). Mr. Mason currently lives in Ellerbe, NC with his wife Trudy.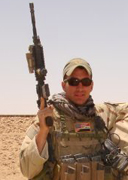 Jason Forouhar
Former Captain,
US Army, West Region Liaison Officer
Jason's extensive experience as a combat leader, and his relationships within Special Operations, he will be able to further the OHF support and message to the 30,000 plus SOF service members located on Joint Base Lewis-Mchord and the surrounding area as the West Region Liaison Officer.
Read more
During Jason's  12 years of service, 7 of those years in Special Forces, with 10 more years supporting special forces as a civilian Jason has supported, trained, and led Special Forces Operational Detachments deployed in combat in support of Operation Iraqi Freedom and Operation Enduring Freedom, as well as numerous Joint Combined Exercise Training (JCET) within the United States Pacific Command. (USPACOM)
Jason brings the unique perspective of both being a spouse deployed in extensive combat for many years as well as being the stay at home military spouse for years raising two young daughters while his wife was focused on accomplishing her mission in the army.
Jason is now one of the newest members of the Operation Healing Forces Team (OHF) and currently lives in Olympia, WA with his fiancé Sarah and three daughters.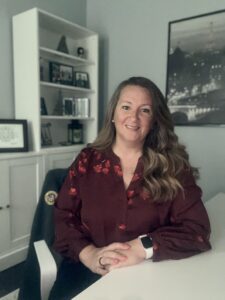 Tiers Arnts
S.O.A.R. Program Manager
Tiers Arnts has been a Special Forces spouse since 2002. She married her husband Sean while he was completing the Qualifications Course (Q Course) at Fort Bragg, NC.
Read more
Her volunteer history in nothing short of impressive. She has been a Team point of contact for five separate Special Forces Operational Detachment – Alpha's (SFODAs) a Family Readiness Group (FRG) Leader at the company level, served as the battalion volunteer coordinator, as an organizational point of contact and as a Battalion FRG Advisor.
Over the years, Tiers has developed a vast global network and cultivated the knowledge and skills necessary to help promote resiliency within the Special Forces household.
She recently completed her third appointment as a Battalion Senior Enlisted Advisor with 1st Battalion, 1st Special Forces Group (Airborne) in Okinawa, Japan, where she advised the Battalion Command team on the needs of the family and force. Tiers also served as a Senior Advisor for F.I.R.S.T. Mentorship, whose mission is to enable 1st SFG (A) spouses to thrive in SOF life through the provision of learning opportunities and the development of authentic mentoring relationships.
She was selected as one of the first five panelist for their inaugural event in 2015 and has been a valued member of the program since attending the specialized training hosted by USASOC.
For the last 19 years, Tiers has worked directly with Special Forces Soldiers and their families to educate, encourage, support, and inspire them while their spouses are deployed around the globe.
Tiers has dedicated her time and mentorship during 7 combat rotations and countless deployments where she became a strong advocate for the United States Special Operations Command (USSOCOM) Preservation of the Family and Force (POTFF) program. Due to her keen familiarity of military operations and extensive personal experience, Tiers has continually been called upon for advice and guidance during times of need and tragedy.
Tiers' awards and certifications include; the prestigious 1st Special Forces Command (Airborne) "COL Maggie" Raye Volunteer Award, Meritorious Public Service Medal, The Department of the Army Commander's Award for Public Service, The Department of the Army Certificate of Appreciation for Patriotic Service (second award), The United States Special Operations Command (USASOC) Spouse Mentorship Training Certificate, The Army Family Team Building Program Level III Certificate, The Armed Forces Community Service (AFCS) Care Team Training Certificate, The AFCS FRG Treasurer Training certificate, The AFCS FRG Leadership Training certificate, The 1st SFG (A) FRG Budget Training certificate, and numerous certificates of appreciation's from 1st SFG (A).

Jamie Thomas
Campaigns & Events Manager
Jamie is a results-driven professional with 10+ years of marketing and sales experience. She is adept at market analysis, strategy development and marketing optimization.
Read more
For the last three years, Jamie worked for a nonprofit located in Sasebo, Japan where she played an instrumental role in program development that provided annual support to over 12,000 active duty. She consistently exceeded her goals and was valued for her ability to take complex situations and provide unique solutions. In 2021, she received the "USOvation" Award which recognizes employees who have made "above and beyond" contributions to the organization.
"As a military spouse and as someone who has worked with the military community, I know firsthand the impact and importance of organizations like OHF," Jamie says. "From Kerry's 'Want more than a job?' job post to the panel interview, my interaction with the OHF team was nothing short of awe-inspiring. I felt the team's passion and dedication and knew this was the organization I wanted to be a part of! I was looking for more than just pay, but PURPOSE, and that's what being part of the OHF family means. Our purpose is to create bonds that cure!"
Dynamic, energetic and highly motivated, Jamie strives for excellence and dedicates her success to her professional relationships as well as operating with the mindset of "giving more than you receive."

Elizabeth Christiana
Corporate & Foundations Relationship Manager
Elizabeth Christiana is honored to join Operation Healing Forces and serve as the organization's Corporate and Foundations Relationship Manager. Liz has an extensive background in serving the military community for over fifteen years. She is a licensed attorney and practiced for almost a decade in Cumberland County, North Carolina, which encompasses Fort Bragg, the largest military installation in the country and the home of the Airborne and Special Operation Forces.
Read more
As a prosecutor, public defender, and a private practice attorney, she worked daily with service members and their family members to seek justice. She is keenly aware of the struggles facing military families especially with her experience in practice areas such as family law and domestic violence matters.
Liz also has volunteered in the Judge Advocate General's office on Pope Army Airfield and served in various other positions to include defense counsel and member of the Cumberland County Veterans Treatment Court where she provided resources to Veterans in crisis and legal representation to Veterans in the court system. Liz has been a military spouse for over twelve years and is the mother of three children. She understands the unique hardships that military families face. She is a lover of history, travel, learning new languages, and a self-professed foodie.
As a first generation American, Liz believes strongly in the American dream and feels privileged to live in the best country in the world. President Harry Truman once said, "Our debt to the heroic men and valiant women in service to our country can never be repaid." Liz is excited to be a part of OHF and serve the Special Operation Forces community and she is grateful for the opportunity to chip away at that debt in any way she can.

Kelsey McCabe
Social Media Manager
Kelsey McCabe is a recent graduate from American Military University, active-duty NSW spouse, OHF alumni, and mother of three. With over 12 years in the SOF community, she has had first-hand experience with the unique and strenuous lives of our special operators.
Read more
In 2020, Kelsey attended an OHF therapeutic couples retreat in Aspen, Colorado with her husband. After returning home, she kept in contact with staff members, retreat lead, and fellow retreat couples. When she graduated from AMU, with a bachelor degree in business and marketing, Kelsey reached out to the resource team for assistance in seeking employment. The timing was perfect, OHF was looking for help in marketing and social media management.
Kelsey is grateful for the opportunities OHF has provided, not only in strengthening her marriage, but for the ability to build a fulfilling career. She works diligently to share details about OHF's programs, events, testimonials, gratitude to OHF donors, and appreciation to all Special Operations Forces.